Repair Kit For Bmw Mini One Cooper R50 R53 Midland My Gs5 65bh Pn Bsrk0491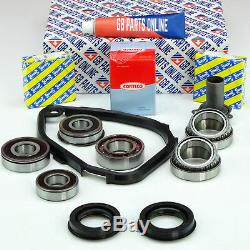 Repair kit for BMW mini one cooper r50 R53 midland my GS5 65bh pn bsrk0491. This product page has been automatically translated.
If you have questions, feel free to contact us. Parts for dsg & dct. Repair kit for BMW mini one cooper r50 R53 midland my GS5 65bh pn bsrk0491.
Repair kit for BMW Mini One / Cooper 5-speed, my r50 / R53 midland my gs5-65bh. This sentence contains the following parts.
Bearing, differential left - 38 mm x 63 mm x 17 mm. Rolling, differential right - 38 mm x 63 mm x 17 mm. Bearing, ring main shaft sealing, bottom - 25 mm x 52 mm x 15 mm. Bearing, seal ring main shaft above - 25 mm x 62 mm x 17 mm. Bearing, main shaft, below - 32 mm x 62 mm x 18 mm.
Bearing, main shaft, top - 22 mm x 57 mm x 16.8 mm. Rubber seal, front - 24 mm x 39.5 mm x 55 mm / 57.5 mm. Rubber seal, differential left - 40 mm x 62 mm / 67 mm x 9.9 mm. Rubber seal, differential right - 36 mm x 58 mm / 63 mm x 9.9 mm / 13.6 mm.
Gb shares online part of lbm autoparts. Gb Online shares was launched in 2015 as an extension of gearchange, a prosperous gearboxes repair company in the heart of Somerset. Lbm autoparts acquired gb Online shares in 2018 as a step towards its expansion in Europe. The company and the warehouse were transferred to the headquarters and the branch lbm autoparts in Sweden and Germany.
We have a wide range of parts for manual transmissions, automatic, differential and transfer - all carefully selected suppliers. You get a quick and competent service. We also sell complete transmissions.
The repair is carried out by our company on STM (gearbox and engine svensk) using original parts. We also offer complete replacement gears.
Please contact us about it! The gearboxes are always sold with a warranty of two years / 30,000 km. Lbm autoparts is currently represented at two sites in Europe. Our head office and our warehouse are located in Stenungsund on the west coast of Sweden. There is a branch in velten near Berlin.
We look forward to welcoming you lbm autoparts! Remember, no order is too small. // erik stålebo, CEO of lbm autoparts.
For payment by bank transfer please contact us. Price includes VAT for European Union customers, for customers outside the European Union the price is outside VAT and pay the VAT in your country.
Please click on the table of shipping costs for more information about shipping. We will send the goods with DHL Express. These are shipped from our parent company in Sweden. If you order and pay for a room with us before 13:30, we will send the product purchased on the same day. Before installing a piece commissioned spare, the customer must ensure that the received part is the correct version for the vehicle / transmission with which it should be used.
This is due to the fact that some rooms have the same design but are available in different versions. Please ensure that the room is complete and has not been damaged during transport. We assume no fee for installing a defective replacement or damaged in transmission.
The manufacturer of the parts of the assembly can vary depending on the provider used. It is not certain that it is the manufacturers who see the boxes on the photo. It is important to know that we always use high quality products. All images and content are protected by copyright. We accept returns within 30 days of purchase, with the exception of electrical components for which we do not accept returns.
The seller bears the general returns costs. Please contact us about this. Feel free to ask us questions about returns of the products you have purchased.
The product is in new condition. The product is not yet mounted. The original packaging is in good condition. When the product is complete.
Returns are not accepted so. The product has been installed in the vehicle. If the product is not in mint condition. If the package and the package is damaged. Reparatursatz für Mitsubishi pajero 3.2 did 5gang pn bsrk0836.
Juego de reparación para Toyota Corolla 1.4 5gang pn ttbk0011. Juego de reparación para todos vw modelos 0AG 6gang pn bsrk8891. This list is currently undergoing maintenance, we apologize for the inconvenience. Gs5-65bh getriebe, GS5 65bh getriebe, r65 midland getriebe.
The item ransmission \ gearboxes, accessories \The seller is \This item can be shipped to the following countries: Europe.
product group: transmission parts <\/ li>
package: not <\/ li>
Country of Manufacture: Germany <\/ li>
Article modified: not <\/ li>
product type: gearbox parts <\/ li>
brand: gbpartsonline <\/ li>
type of product .: Manual of transmission <\/ li>
manufacturer part number: bsrk0491 <\/ li>
Manufacturer reference number: gs5-65bh equipment GS5 65bh equipment, r65 midland equipment <\/ li>
Manufacturer: gbpartsonline <\/ li> <\/ Ul>