Translate this title in English: Direct Admission Kit Speed R Standard Mini One Cooper 1.6L R50 53 01-06 S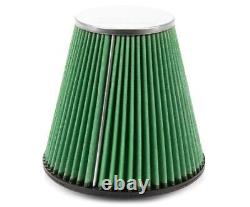 Compatible with Mini One/Cooper - 1.6L R50/53 - 01-06. MINI ONE 1.6L i 90hp Year: 01-04. MINI ONE 1.6L i 90hp Year: 10/04-06. MINI COOPER 1.6L i 115hp Year: 01-04. MINI COOPER 1.6L i 115hp Year: 10/04-06.
The installation principle of the SpeedR remains the same as that of the direct intake kit. The only difference is that it uses a polished aluminum pipe, offering better airflow. This kit offers a superb look and optimizes the air supply to your engine while providing a truly race-like intake sound. We sell all Green filters: replacement filters, direct intake kits, racing direct intakes, airboxes, SpeedR, SpeedR Twister... For any information, please contact us with the specifications of your vehicle (brand, model, year, engine). We only deliver to mainland France! If you live in the DOMTOM, Corsica, or Monaco, please contact us via message. In accordance with French legislation regarding the right of withdrawal, custom-made items and Hygiene categorized products (such as lingerie) are excluded from this same right.