T-chip One Mini Clubman (f54) Cooper (136 Ch / 100 Kw) Benzin Boitier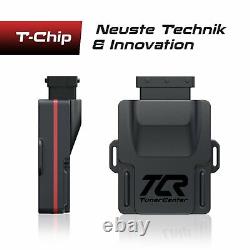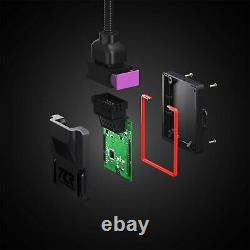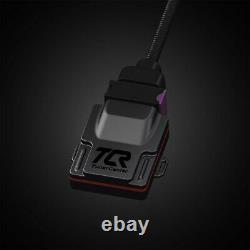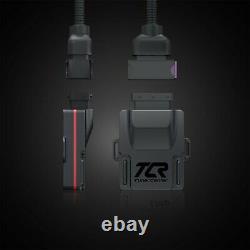 T-chip one for mini, clubman (f54), cooper (136 hp / 100 kw). 31 ps - 49 nm. More power for the most modern engines in real time. Discover our high-end product at an unbeatable price. Ready to ship in 24 hours.
Free shipping in the eu. 30 days of straight withdrawal. The most innovative German manufacturer of chip tuning products. High-quality technology at a great price. The t-chip one speeds up the pace of each tuner.
Thanks to its well thought out and extremely precise manufacturing, this combines a clearer in terms of torque, efficiency and performance of the engine. We are only satisfied when you are. Therefore, we regulate your vehicle with the most modern solution in the field of chip tuning, the t-chip one.
A special feature of this adjustment variant is the transfer of data to the engine control unit without delay. This allows you to adapt exactly one optimization to your vehicle. The best possible result is obtained from many factors such as overfeeding pressure, the amount of injection or the pressure of the intake collector. Your benefits in a stroke of the day.
2-year warranty of the product. Installing our quality product as possible without technical knowledge. In order for you to install our t-chip one in your vehicle, you don't need any special knowledge or skills in the automotive industry.
Even as a tuning beginner, you can easily integrate the chip into your vehicle using the installation instructions provided. Nevertheless, we are of course by your side with open questions or advice problems. Install quickly and start immediately with more performance.
In addition to the best possible quality, it is also very important for us at the center of the tuner that you can get along without one page instructions and without using tools specially developed for the automotive sector. A simple cable connection and other cable ties are all you need for installation. Immediately after the installation of the high quality product, nothing stands in the way of a first test. Start the engine and get significantly more power. Includes 1 year of engine warranty.
No worries about any damage. We also want to give our customers a positive feeling with the order. That's why we give all our customers an additional one-year warranty on their engine for every product they order. Concerns about possible engine damage are therefore a thing of the past. Our one-year engine warranty automatically comes into effect with your purchase and applies to all vehicles built in 2013 or less. Damage up to a price of 3,500 is fully covered. And above all: there is no candour!
When does the engine warranty cover the damage? As you know, the engine of a vehicle is a very complex component that consists of many small components. It doesn't matter if the charger, breech or the vilebrequin are affected. If it can be proven that the damage was caused by the installation of one of our products. The warranty comes into effect.
Latest 2017 version of the software settings manually adjustable software performance settings. Beam wiring t-chip one powerbox for your vehicle installation instructions individual original connector attachment equipment engine warranty form. Waterproof circuit board connector automotive safety processor 32 mhz heat resistant. Only a satisfied customer is a good customer. Simple plug-play system for easy installation. Every dissatisfied customer is definitely one too many for us.
Therefore, we always strive to offer the best possible service and superior products. For us, the simple installation of our products is also a matter of usability. Forget the cumbersome and complex installations and instructions, with our products you can bring the ultimate driving pleasure on the road in minutes. A special heat- and acid-resistant plastic with fibreglass reinforcement and the quality of the sealing of the chips and associated cables attest to the high quality of our products. Nevertheless, you want to avoid any inconvenience, so that various components are put to the test by our professional technicians before being handed over to our supplier.
The product will only be communicated to you if this feature has been guaranteed as part of this test. Increased performance and reduced consumption. Reduce consumption to simultaneous performance! With us, you don't have to choose between increasing performance or reducing consumption.
At tunercenter, we can do both. Fuel cost after optimization 20,000 km. Thanks to our unique quality products, in addition to the desired improvement in your performance, you also benefit from the simultaneous reduction of consumption. In combination with an appropriate driving style, you save up to 1 l of fuel over 100 km. Investing in setting your chip will therefore be profitable quickly and sustainably, as you save money with each tank filling.
A chiptuning tunercenter drives my engine stronger in compassion? Since your vehicle is more motorized than before by the adjustment of the chip of our company, there is therefore a slight extra effort for the engine. If you take full advantage of the extra performance achieved with our chip setting, torque and performance also increase. However, this increased pressure on the engine only occurs if the gained power is fully used.
Nevertheless, you can use the extra performance without worry. Most of the engines currently installed are already designed so that this extra load can be supported without any problems. Does performance affect the fuel consumption of my vehicle?
Depending on the vehicle, you save between 200 ml and 2.0 litres per 100 kilometres after installing the t-chip one in your vehicle. This saving comes from a slightly different driving style, as you can upgrade to the top gear earlier because of superior performance. In addition to switching behavior, the real economy is also due to the design of the respective vehicle engine.
Satisfied customers reported a fuel reduction of approximately 1.5 litres per 100 kilometres. Does a tunercenter adjustment chip cooperate with a diesel particulate filter (dpf)? Yes, a vehicle with a built-in diesel particulate filter (dpf) or soot particulate filter is not an obstacle to installing a tuning branch of the adjustment center. All products are specially designed to best match the respective vehicle, even with an existing diesel particulate filter. Oere do I need to connect the wiring beam? Virtually all common ramp vehicles on the market have the connection for the cable bundle installed in the middle or at the end of the common ramp. Does chiptuning reduce engine life? The question of the durability of your engine is more due to the driving style than the installation of a chip tuning. Adjusting the chips alone will not reduce lifespan.
The engine usually lasts longer than usual if the driver demonstrates a very aggressive driving style and thus exposes the engine to heavy loads over a longer period of time. However, it should be noted here that this is independent of the setting of the chip. Because even without adjustment, an aggressive driving style means a reduction in engine life.
Can I install a t-chip one in my vehicle? Diesel-powered vehicles are almost all suitable for chip setting. For gasoline engines, it depends on the manufacturer and the model. On our homepage, you will find an accurate overview of the vehicles that could be used for our setting with a t-chip one.
Of course, you also have the option to contact us directly with your vehicle data and our technicians will check individually if the chip setting is possible in your vehicle. Do I need a special tool for chiptuning? During the development and production of our products, we placed great value on chip setting, even without training or knowledge in the automotive sector. Special tools are not needed for this. The only exception is for vehicles that require the air filter casing to be removed before the chip can be plugged in. For this it is advisable to have a knowledge of motor vehicles or, if necessary, to visit a workshop of trust. The item \"t-chip one mini clubman (f54) cooper (136 hp / 100 kw) benzin case\" has been on sale since Monday, March 23, 2020.
It is in the category \"auto, motorcycle - parts, accessories-tuning, styling-engines, chip tuning-chips, chips\". The seller is \"81gerhard\" and is located in ha-loch.
This item can be shipped to the following countries: America, Europe, Asia, Australia.
fabricant: tuner center
mark: - unmarked/generic -
manufacturer's part number: not applicable